LVP install a medical device conveyor in Larne, Northern Ireland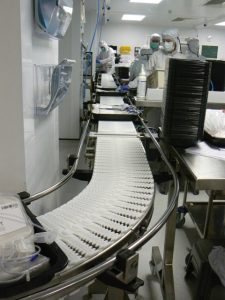 LVP Conveyor Systems Ltd. have recently completed the second phase of a complex conveyor installation at one of Northern Irelands leading medical device companies.
The project in Terumo BCT, based in Larne, was founded on the success of a previous line which was installed in 2010.
The system provides fully automated delivery of plastic trays which carry a delicate drip component from one cleanroom to another.
The medical device is assembled in the first cleanroom and then fed to operators in the second clean room on a JIT (just in time) basis where machines fill the device with fluids. This process is managed by operators.
All conveyors are high specification cleanroom grade stainless steel. The bulk of the system is made up of 220mm wide Carryline conveyors with some Okura jabucon "water" indexing conveyors. The controls functions include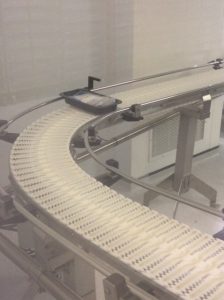 Stainless steel control panels with AB PLC and inverter control, a series of pneumatic stops for gating and releasing product and specialised operator finger block sensors to call product to the filling stations.
The overall brief of the design, supply, installation and commissioning of a low maintenance, modular, aesthetically pleasing materials handling system to handle delicate product was met and exceeded with flying colours.