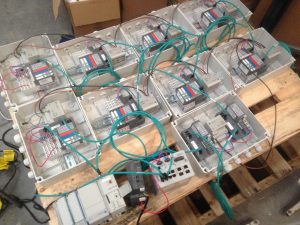 LVP Conveyor System Ltd is a lot more than just a conveyor systems company. We are fully capable of large real time automation monitoring systems. Seen here are a range of Point IO modules built in house in LVP for a large scale injection molding process with real time analytic data capture and monitoring as well as user log in using Panelview HMI'S for changing the working parameters of the system. LVP fully built, programmed and commissioned the system on site. This type of work is well within our capabilities. We may be a better alternative for your process! Please contact us with any questions you may have.
LVP Carryline Conveyor bottle return system with pusher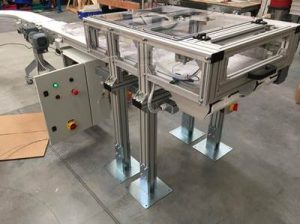 One of LVP'S most recent conveyor system installations was a Switch Lane Pusher Conveyor System that changed 2 litre plastic bottles between 2 conveyor lines through a rotary switch table inside a interlocked safety cage around this rotary switch table
The hardware used was Carryline 220mm standard conveyor combined with Carryline extrusion profile which was used to build the safety cage around the switch table. The interlocked doors were safely secured using Guardmaster interlock relays for safety access and the system was controlled using Allen Bradley micro 800 series PLC'S and CCW software. We in LVP have vast experience using a number of different controller platforms; witch makes us a perfect partner for your automation goals.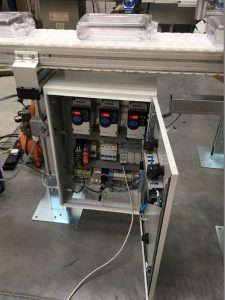 Get in touch with LVP to discuss your next factory automation project. We deliver a turnkey package to include 3d design and system thruput calculations, mechanical /electrical installation including control panel build, programming and commissioning. Leveraging the full product portfolio of Carryline we can support you in Ireland or the UK for your next conveying project. Contact us today for more information