Not limited to movement of light to medium duty products on our conveyor systems, LVP do a large range of heavy duty conveyors for larger scale manufacturing operations throughout Ireland and the UK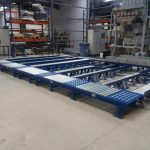 The most recent install you see in the photo above was designed to allow operators convey and move large transformers around the manufacturing cell and still allow assembly of components onto the transformers. Ball tables allowed for full 90 degree transfers between the lines when needed
The spec was as follows
 Conveyors were 612mm wide for large transformer
Between 40-kg150kg payload per roller at 75mm pitch
Custom designed frame for 100mm width sections to handle large load of transformers. Fully designed by LVP Design Team
Supplied and installed by LVP install team
Get in touch with LVP for any and all bespoke modular conveyor designs. This conveyor is but one of hundreds of conveyors we have designed and installed, and we have all the necessary tools and experience for you to consider us for your future projects
Custom LVP Design proved to be the perfect solution to our customers new ECU Manufacturing requirements for increase in sales volume
Automated feeding of products to Collaborative Robotic cell and control of Packed goods, as well as full system programming and Controls was a major concern for this Customer
Due to our Broad level of experience with both Conveyor and Robotic Automation Systems LVP were perfectly placed to supply this customer with a total Bespoke solution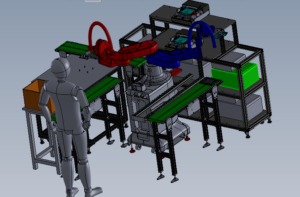 This Conveyor cell was built to work with a collaborative Robot operating in the electronics industry.
Pallets with electronic product are indexed and singulated into a pick zone where:
The product is picked and placed onto a conveyor for the next process
The empty pallet is picked and placed onto the gravity outfeed conveyor
The Controls sequence was as follows:
Pallets with product placed onto infeed conveyor. This conveyor will accumulate up to 6 pallets and separate the first into the robot pick zone.
Every 25 seconds the robot will pick a product and place it into the process in the cell
The robot will then pick the empty pallet and place it onto the overhead gravity conveyor and then the next full pallet will arrive into the pick zone.
When the process is complete the robot will place the finished product (with connector face down on the belt) onto the finished product conveyor if the product is good or if it is bad it will place it on the reject conveyor.
Product on the reject conveyor and the finished product conveyor can accumulate against a fixed end stop and then stop when full.
Two way communication via volt free contact was required throughout with upstream and downstream equipment. The LVP conveyor system was capable of sending and receiving signals back and forth from the upstream and downstream equipment to safely interlock the machines for safe use.
This system type combines robotics, electronics, plc control, pneumatics and complete 3D design. LVP are properly placed in this industry to help you Design your own Collaborative Robotic and Conveyor System
Regardless of the components you're manufacturing or the environment you're manufacturing them in, get in touch with LVP and we can help you achieve your system goals.