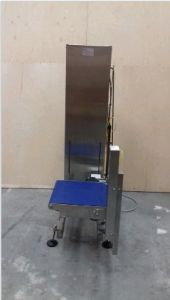 LVP Conveyor systems have recently built a fully stainless steel lifting modular belt conveyor for the beverage industry.
The spec was as follows:
300mm range of movement
Fully stainless steel frame with IP65 rated motors and actuators as a minimum
Capable of lifting over 100kg including product and conveyor frame
8 second movement time
In order to achieve the above, we designed and built the machine you see from scratch in LVP'S workshop. Sizing and selection off the AZ Series stepper motor for lifting of the weight was done in house, as well as the brushless DC motor that will drive the lifting modular belt conveyor. All values of inertia, torque and speed were calculated in house.
Some of the hardware was as follows
Fully IP66 rated Oriental motors
Fully IP65 rated Festo linear actuator
Hiwin Slide rails
Allen Bradley control PLC Device and interlocks
Special purpose machine building is a speciality in LVP Conveyor systems limited. Get in touch to discuss any projects you have
LVP Stainless Steel Carryline Glass and Plastic Jar Sauce line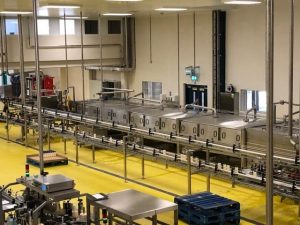 One of LVP'S most recent conveyor system installations was a series of Carryline 83mm wide conveyors that incorporated two lifters between levels and 150m of conveyor for glass and plastic jars. Designed to accommodate over 10 different product types the system has 2 tier quick release manually adjustable guiderails to change the guiderail widths for different product lines.
Because of various processing machines on the line like fillers, pasteurisers, labellers etc special thought had to be given to putting in areas of accumulation and to adding pneumatic jar stops at certain points to reduce the line pressure. As the system is fully wash down and there is water involved in the process a series of stainless steel drip trays runs the length of the system to dedicated drain points to reduce the amount of water
on the floor.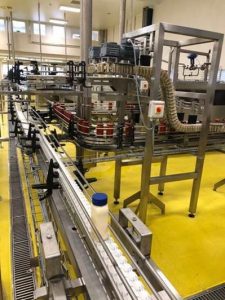 Get in touch with LVP to discuss your next factory automation project. We deliver a turnkey package to include 3d design and system thruput calculations, mechanical /electrical installation including control panel build, programming and commissioning. Leveraging the full product portfolio of Carryline we can support you in Ireland or the UK for your next conveying project. Contact us today for more information