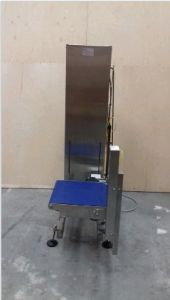 LVP Conveyor systems have recently built a fully stainless steel lifting modular belt conveyor for the beverage industry.
The spec was as follows:
300mm range of movement
Fully stainless steel frame with IP65 rated motors and actuators as a minimum
Capable of lifting over 100kg including product and conveyor frame
8 second movement time
In order to achieve the above, we designed and built the machine you see from scratch in LVP'S workshop. Sizing and selection off the AZ Series stepper motor for lifting of the weight was done in house, as well as the brushless DC motor that will drive the lifting modular belt conveyor. All values of inertia, torque and speed were calculated in house.
Some of the hardware was as follows
Fully IP66 rated Oriental motors
Fully IP65 rated Festo linear actuator
Hiwin Slide rails
Allen Bradley control PLC Device and interlocks
Special purpose machine building is a speciality in LVP Conveyor systems limited. Get in touch to discuss any projects you have