Depalletising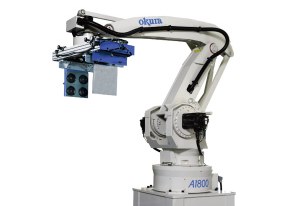 LVP Conveyor Systems Ltd. are suppliers of de-palletising systems using a robot palletiser.  As a key  integrator and distributor for the Okura range of robot palletisers, for UK & Ireland, LVP Conveyor Systems Ltd. can supply the only robot designed for palletising / depalletising.
Okura A1800
LVP Conveyor Systems Ltd. / Okura work on a completely different principle for palletising.  Our machines are based on capacity/throughput premises rather than load.  As a 4 axis robot, it is THE robot for de-palletising.  Having recently introduced the latest robot to the Okura family, the A1800, LVP Conveyor Systems Ltd. can now provide the fastest palletising robot on the market, capable of 1800 cycles per hour.
The programming software used for the Okura palletiser, OXPA, is designed as a windows based programme, and is a simple and easy programme.  It allows the end user to create and change programmes very  simply, with a step by step system,
To create the full palletising system LVP Conveyor Systems Ltd. also supply the peripheral equipment  incorporated, such as pallet dispensers and bag flatteners.