Intelligent automated conveyor lines
One of LVP'S Longest standing customers recently required us to automate the picking lines in their warehouse so that safe accumulation of 20 boxes could take place with product singulation on the end of each line. This is a brief overview of the project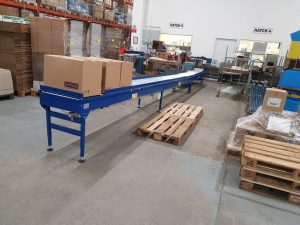 Project Outline
The project was to accumulate 20 boxes on the roller conveyor lines packing area in our customer's site. The system took boxes automatically onto itself from a tape sealer via a twin chain transfer. The boxes were then conveyed up to the pneumatic end stop which always allows 1 box to be singulated at the end of each of the 3 lines. This allowed easy box picking for the operators to pack onto a pallet at the end of each line. The roller system includes line brakes and start/stop sensors to remove line pressure when full accumulation has been reached. All electric and pneumatic controls as well as conveyors designed and built on site in LVP before install on customers site.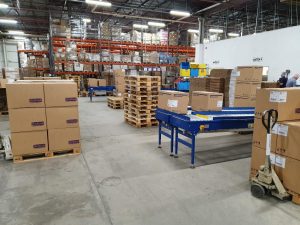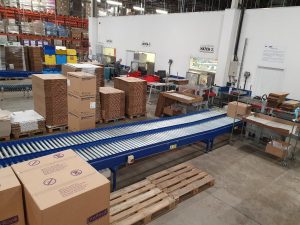 LVP install a medical device conveyor in Larne, Northern Ireland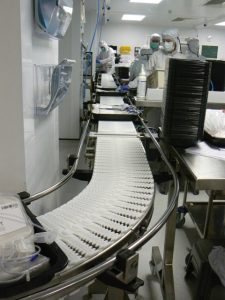 LVP Conveyor Systems Ltd. have recently completed the second phase of a complex conveyor installation at one of Northern Irelands leading medical device companies.
The project in Terumo BCT, based in Larne, was founded on the success of a previous line which was installed in 2010.
The system provides fully automated delivery of plastic trays which carry a delicate drip component from one cleanroom to another.
The medical device is assembled in the first cleanroom and then fed to operators in the second clean room on a JIT (just in time) basis where machines fill the device with fluids. This process is managed by operators.
All conveyors are high specification cleanroom grade stainless steel. The bulk of the system is made up of 220mm wide Carryline conveyors with some Okura jabucon "water" indexing conveyors. The controls functions include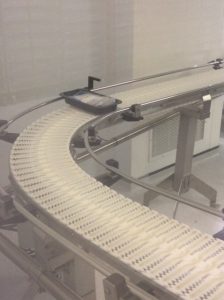 Stainless steel control panels with AB PLC and inverter control, a series of pneumatic stops for gating and releasing product and specialised operator finger block sensors to call product to the filling stations.
The overall brief of the design, supply, installation and commissioning of a low maintenance, modular, aesthetically pleasing materials handling system to handle delicate product was met and exceeded with flying colours.
Safe transport of expensive HIV testing kits in tight footprint work cell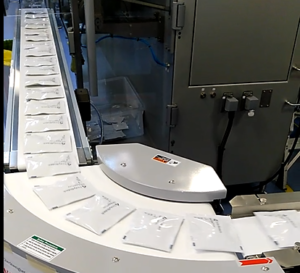 Flexible Okura Conveyors Proved a suitable Solution for our Customer
Small HIV testing kits manufactured in Ireland have a small fragile structure once assembled. The customer required product conveyance of these components to a finished parts station where they were placed in a tray without any damage during belt transfer. As well as this the total floor footprint the customer had to work with was very tight. LVP'S modular off the shelf Belcon Mini BMS knife edge conveyor and FCB tight radius belt curve were the perfect solution. Providing a 2mm transfer gap between conveyors as well as tight radius belt curves, the small conveyor system was a perfect fit first time and worked flawlessly.
Regardless of the components you're manufacturing or the environment you're manufacturing them in, get in touch with LVP and we can help you achieve your system goals.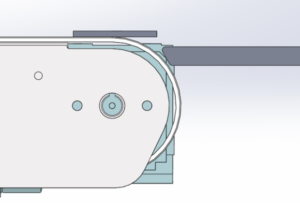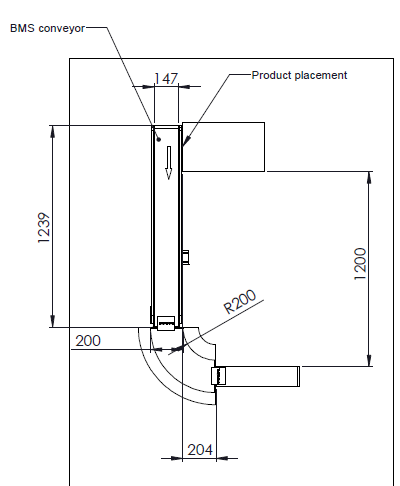 LVP Conveyor Systems have recently built a Knife Edge Conveyor cell with a 90 degree curve conveyor for transportation of small fine packages for the pharmaceutical industry. The spec was as follows.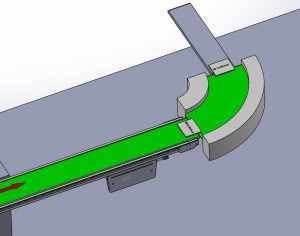 Very small and fine transition section (<5mm)
Variable speed on both conveyors
Full FDA design of conveyors and materials
Interlocking to existing machine on site for safety
In order to achieve the above, we proposed and used an Okura Belcon mini conveyor KBS 1. This model incorporates a knife edge one end and an end roller the other. We then used an FCB fine series curve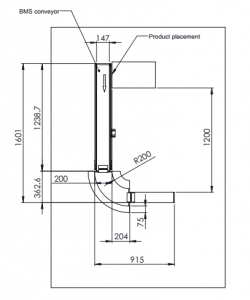 conveyor. The fine series curve conveyor incorporates rolling tracking wheels to keep the belt running smoothly As part of the cell layout the customer had an OCS check-weigher incorporated into their cell layout design. The OCS check-weigher infeed knife edge conveyor was able to be placed within 5mm of our FCB conveyor allowing the cell to fulfil purpose flawlessly Special purpose machine building is a speciality in LVP Conveyor Systems limited. Get in touch to discuss any projects you have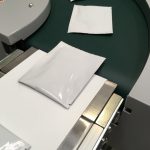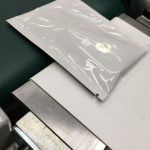 One of LVP'S most recent Jobs was a set of Belcon Mini Conveyors that incorporated a full lifting gate to lift and support a 500mm long x 100mm wide Belcon Mini used for transporting packed medical devices.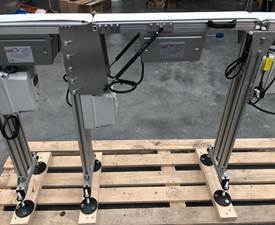 The Conveyor had to have the capability of lifting without damaging the cable. For this the cable was extended and fed through a special tray to remove the possibility of the cable chaffing off the conveyor frame. The Belcon Mini also featured our range of Oriental Motor Brushless DC motors that are more compact and light weight than standard induction motors, therefore reducing the effort required to lift the Conveyor in question
Variables speed between .5 meters per minute up to 50 meters per minute are capable on these Oriental Brushless motors on the same ratio gearbox, so we can accommodate any speed requirement a customer needs for our Belcon Minis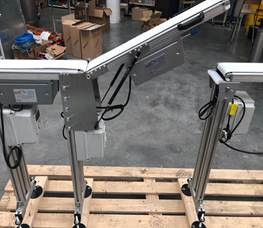 These Brushless DC motors are 30% more energy efficient than an equivalent sized induction motor. So we have a 90 watt Brushless DC motor on these conveyors, which when compared to a 90 watt induction motor uses 30% less energy to achive the same work done
Get in touch with LVP for any and all bespoke modular conveyor designs. These conveyors are but one of hundreds of conveyors we have designed and installed, and we have all the necessary tools and experience for you to consider us for your future projects