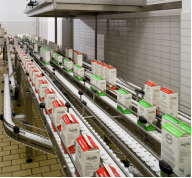 Carryline produces a very flexible and space-efficient belt conveyor systems for handling lightweight products.
Own manufacturing and short decision path gives Carryline ability to respond quickly to
customer requests.
Carryline Product Program includes various standard widths from 24 mm up to 220 mm, modular chain conveyors with optional widths, vertical conveyors, spiral conveyors and roller conveyors. All conveyors are available in aluminum and stainless steel.
Carryline offers everything from one single conveyor to system installation and service.
The units are disassembled into modules which are then easily assembled with hand tools so that both installation and production changes are  smooth, fast and cost effective.
With more than 50 years of experience, we look forward to new challenges.
Carryline Spiral conveyor is available in aluminum and stainless steel.
It´s a very compact conveyor to convey items up or down with a small foot print area. Carryline Spiral conveyor is built to customer requirements with chain width, chain type and type of guide rail. All to be adapted to the product to be conveyed.
Chain width, 83 mm, 140 mm, 220 mm
Min chain diameter, 800 mm
Max inclination, 10°
Speed, Up to 60m/min
Max weight, 15kg/m (depending on design)
Carryline profile system is a flexible building system with aluminum profiles as a basis.
The profiles are used for a variety of applications. For example cover, supports, worktables etc.
We sell both in single items but also complete ready solutions where we help you from concept to project drawings and assembly.